Akmodel Md, Bags Eko Awards 2023 Best Entrepreneur In Real Estate
Akmodel Md, Bags Eko Awards 2023 Best Entrepreneur In Real Estate
Akmodel Homes and Properties was present at the Eko Heritage Awards 2023 which was indeed great and glorious.
The Season 3 event conferred on the Managing Director of Akmodel Groups, Builder (Dr.) Abdulhakeem Odegade The Best Entrepreneur In Real Estate.
This is because the event was organised to recognise different individuals, men, and women who are breaking barriers in their respective fields. And also to crown another queen for The Miss Eko Heritage Beauty Pagent.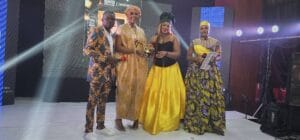 The theme of the event was: The Role Of Culture In Promoting Architectural Identity and the Keynote Speaker and Guest Speakers who handled it were: Amb. Dr. Yeye Lara Fashola, Mrs. Janet Mordi, Chief Ganiyu Olalekan Bakare and Mr. Olajide Lawal.
There were many side attractions like: Musical/Cultural Dancers, Ewi Perfomers, Eyo Masqurades, A Lady Drummer etc. Chief Olamilekan Adebayo (Adigun Olowe Yoruba) also performed to the admiration of the audience.
Among the attendees and awardees were: the delectable Nancy Isime, Amb. Dr. Yeye Lara Fashola, Mercy Aigbe Adeoti who came with her husband, Paul Obazele, Favour Benson (Media Consultant To Akmodel Groups), Mrs. Janet Bose Mordi (MD of Zekod Farms Ltd.) Mr. Olajide Lawal (GM of Eko FM), Miriam Cole and others too numerous to mention because it was a full house.
Akmodel Homes and Properties was the only Real Estate company on board and also the Headline Sponsor.
This awards event was ably handled by the duo of Mog Akpors and Miriam Cole.
Eko Heritage Awards was packaged by Ivory Forte Entertainment and also proudly endorsed by the Lagos State Government.
SOLIN MEDIA