WEMA BANK, SELAR PARTNER TO EMPOWER AFRICA'S CREATOR ECONOMY WITH A WEBINAR ON "THE DIGITAL ECONOMY AND THE FUTURE OF WORK"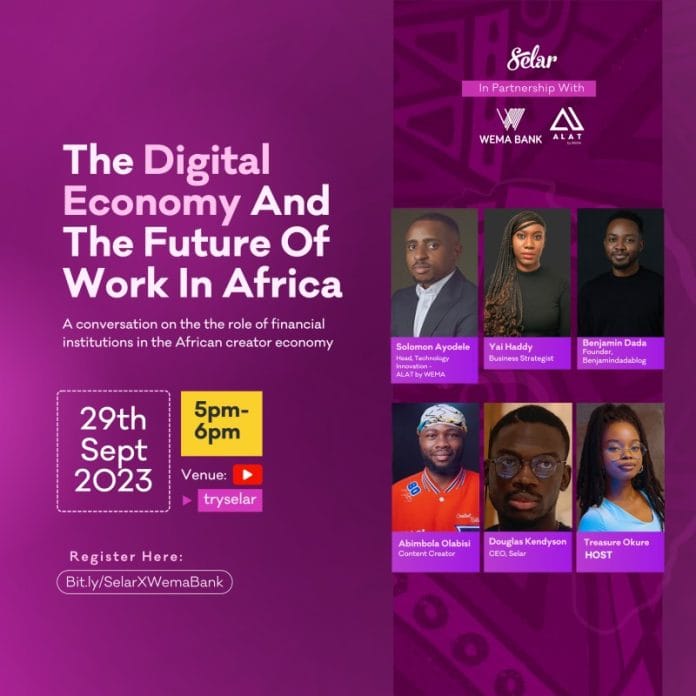 WEMA BANK, SELAR PARTNER TO EMPOWER AFRICA'S CREATOR ECONOMY WITH A WEBINAR ON "THE DIGITAL ECONOMY AND THE FUTURE OF WORK"
Wema Bank, Nigeria's most innovative bank and pioneer of Africa's first fully digital bank, ALAT, has partnered with Selar, Africa's largest creator platform, to empower African creatives and bridge the prevalent gaps in the African creative space.
This revolutionary partnership has birthed a power-packed webinar titled "The Digital Economy and the Future of Work", a learning and problem-solving webinar aimed at helping Africans—especially Nigerian—creators to maximise their potential and leverage available resources to transform their creativity into sustainable streams of income.
In a world where work is evolving, the concept of employment is undergoing a profound transformation. The creator economy is reshaping the digital landscape, granting young individuals unprecedented opportunities to create and monetize knowledge as never before.
Generation Z and Millennials are harnessing the creative space to attain financial independence by selling digital content and forging careers as creators. Scheduled for September 29, 2023, this webinar promises to illuminate the challenges and prospects that creators encounter as they navigate this exhilarating terrain. It offers invaluable insights into effectively tapping into its potential.
According to a survey conducted by Selar, one in every four creators is an employer, a testament to the potential for creators not only to earn but to create job opportunities, thus bolstering the African Creator Economy as a stable and lucrative source of income. This, in turn, promises to reduce unemployment rates in Africa, contributing to the achievement of the Sustainable Development Goals.
Solomon Ayodele, Head of Innovation & Corporate Transformation at Wema Bank and one of the speakers at the event, commended the bank's commitment to innovation, recounting the bank's storied history of resilience and technological advancement. He affirmed Wema Bank's dedication to equipping its customers with practical knowledge to help them monetize the digital sphere effectively.
According to Douglas Kendyson, the C.E.O. of Selar and another speaker at the event, the dream is for the partnership to mark the beginning of a strong network of groundbreaking initiatives from both powerhouses—Wema Bank and Selar—to revolutionise the creative space in Africa and build more jobs for Africans all over the world.
"I've been in the tech space for years now and Wema Bank has been at the forefront of innovation—from digital banking alternatives like ALAT to youth-empowering technology programmes like Hackaholics and much more—all of which have shaped the entire FinTech industry, which is why this partnership is so important to us at Selar.
This highly anticipated event would demystify the complexities of the creative space, with a distinct focus on the African context. Key speakers for the webinar include Douglas Kendyson, Solomon Ayodele, Benjamin Dada (Founder/Publisher, Benjamin Dada Blog), and Senior Manoa, one of Nigeria's premier creators.
Attendees can expect to gain valuable insights into the challenges and opportunities faced by creators across the African continent, the pivotal role of financial institutions in fostering the growth of the creator economy, and practical guidance for establishing and enhancing successful online businesses with digital products.
This event welcomes attendees from all walks of life, from budding creators to established entrepreneurs eager to harness the dynamic potential of the creator economy.
Wema Bank, once again, redefines the global standard for banking and reaffirms its position as the bank that works tirelessly to support every stakeholder. Mark your calendar for "The Digital Economy and the Future of Work" on September 29, 2023. To secure your spot, register for free at [https://bit.ly/WemaXSelar].
About Wema Bank:
Wema Bank is the pioneer of Africa's first fully digital bank, ALAT, and one of Nigeria's most resilient banks. With decades of experience in the business of banking, the bank has remained innovative in delivering value to its stakeholders. The publicly quoted Nigerian company has successfully built a legacy of trust and resilience that has won the loyalty of its customers.
The bank is constantly introducing products and services tailored to the needs of its customers at every stage of their lives. It is a proud partner to more than one million individuals, families, and businesses across Nigeria, helping them achieve their personal and financial goals.
About Selar: Selar is an innovative e-commerce store builder designed to empower creators to showcase and sell their digital products. With a user-friendly interface and comprehensive features, Selar has become a leading platform for monetizing knowledge and skills in the digital space.