Photos: Erelu Bisi Adeleye-Fayemi: An Amazing Amazon, Brain and Beauty Turned 60
Photos: Erelu Bisi Adeleye-Fayemi: An Amazing Amazon, Brain and Beauty Turned 60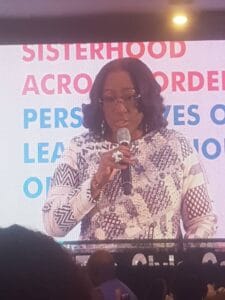 The former First Lady of Ekiti State, Erelu Bisi Adeleye-Fayemi celebrated her 60th birthday at The Civic Centre, where many people from different walks of life whom she has touched on way or another came up to pay glowing tributes to her.
There was a conference held in her honour titled: Sisterhood Across Borders: Celebrating BAF@60. The keynote speaker was H.E Professor Abena Busia (Ghana Ambassador to Brazil).
It was a glorious time at the event that had no dull moment. Amongst many dignitaries that graced the occasion were: Maureen Obire (Admin. Director of JTAH Foundation, members of Child Protection Network in Lagos (CPN) led by the State Coordinator, Mrs. Ronke Oyelakin, Erelu Abiola Dosumu, Mrs. Joke Silva (Actress/Producer), Mrs. Ibidun Awosika, first ladies of Ekiti, Kwara and Ogun States, former first ladies and members of NGWsF, friends/colleagues from Kenya, Ghana, London, Nigeria's female ambassadors, Speaker and Deputy Speaker of Ekiti State, Rep. of the Oba of Lagos, loved ones and well wishers too numerous to mention.
Erelu Bisi Adeleye-Fayemi had both her B.A. History programme (1984) and M.A. History programme (1988) which she completed with high grades from the University of Ife (now Obafemi Awolowo University).
Her contributions to Akina Mama wa Afrika (AMwA), African Women's Development Fund (AWDF), African Women Leadership Institute (AWLI), among other means, has been a landmark, no wonder she emerged as the "Changing Face of Philanthropy", awarded by the Women's Funding Networks in 2007, was named one of the twenty most influential African women in 2009 by New African Magazine, and was awarded the 2018 Zik Leadership Prize for Humanitarian Leadership by the Public Policy Research and Analysis Centre amongst other foreign/global and local awards/recognise.
She is the author of "Speaking for Myself: Perspectives on Social, Political, and Feminist Activism in Africa" (2013), "Speaking Above a Whisper" (2013) and "Loud Whispers" (2017), "Where is your wrapper", while "Demand and Supply" (2023); "A Tray Of Locust Beans" (2023) were both unveiled at the event yesterday.
Erelu Adeleye-Fayemi has presented herself as a defender of women's rights and an advocate of gender equality within the Nigerian political space and she has also proved to be a gift to Nigeria and the global community.
Erelu Bisi Adeleye-Fayemi is a very respectful wife to her hubby, His Excellency Kayode Fayemi, Former Executive Governor of Ekiti State and a dutiful and caring mother to her children.