Ilebaye Emerges Victorious in Big Brother Naija All Star Season Finale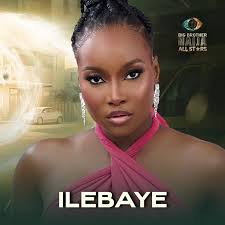 The much-anticipated Big Brother Naija All-Star Season Finale concluded with a spectacular triumph as Ilebaye emerged victorious, capturing the hearts of millions of viewers across the nation.
The exhilarating journey of this reality show reached its pinnacle, leaving fans on the edge of their seats as they eagerly awaited the announcement of the ultimate winner.
Ilebaye's journey in the Big Brother Naija house was nothing short of remarkable. From the first day, they exhibited a unique blend of charisma, strategic prowess, and genuine authenticity that resonated with both fellow housemates and the audience.
Week after week, Ilebaye navigated the challenges of the game with poise and determination, forming alliances and winning competitions that solidified their position as a frontrunner.
As the season progressed, Ilebaye's popularity soared, with fans appreciating their honesty and integrity amidst the inevitable drama that unfolded within the house. Social media platforms buzzed with discussions, hashtags, and memes dedicated to the enigmatic personality of the All-Star winner.
READ ALSO: RTEAN's Bold Initiative: Eliminating Thuggery and Hooliganism for Safer Motor Parks
The finale night was a grand spectacle, filled with suspense and excitement. Hosted in a dazzling venue, the atmosphere was charged with anticipation as the remaining finalists nervously awaited their fate.
The announcement of Ilebaye as the winner sparked an eruption of joy both within the venue and across the nation. Social media exploded with congratulatory messages, celebrating the victory of a truly deserving All-Star.
Ilebaye's win is not only a personal triumph but also a testament to the support and love they garnered from the viewers. The journey through the Big Brother Naija house is a rollercoaster of emotions, and emerging victorious in an All Star season elevates the achievement to a higher echelon.
Beyond the glittering confetti and celebratory cheers, Ilebaye's win symbolizes the potential for personal growth and transformation within the context of the Big Brother Naija experience.
The lessons learned, friendships formed, and challenges overcome contribute to a transformative journey that extends beyond the confines of the reality show.
As the nation reflects on the thrilling moments of the Big Brother Naija All Star Season Finale, Ilebaye stands as a beacon of inspiration for future contestants and a beloved figure in the hearts of fans.
The legacy of their victory will undoubtedly endure, leaving an indelible mark on the rich tapestry of Big Brother Naija history.