Fidelity Bank's Exceptional Performance in the 2022 FY has Received Praise from Shareholders.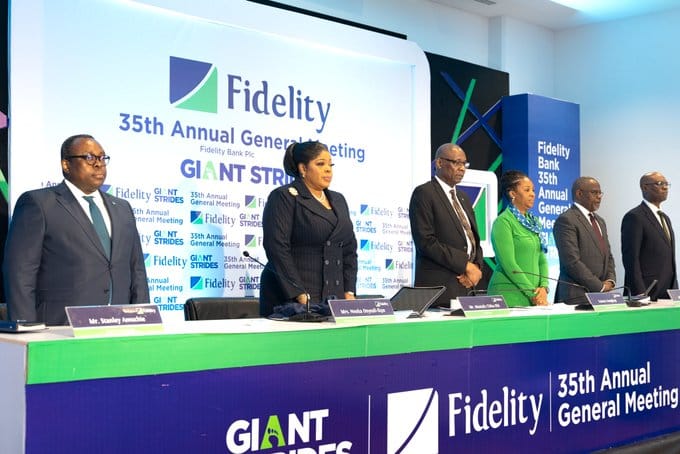 Fidelity Bank's Exceptional Performance in the 2022 FY has Received Praise from Shareholders.
Shareholders of leading financial institution, Fidelity Bank Plc, have commended the board and management of the bank for delivering an exceptional performance in FY 2022. This was made known at the bank's 35th Annual General Meeting (AGM) held virtually on Tuesday, May 23, 2023.
Speaking at the AGM, the Chairman Emeritus of the Independent Shareholders Association of Nigeria (ISAN), Sir Sunny Nwosu applauded the bank's management for "listening to shareholders and declaring an interim dividend".
Giving his remarks at the meeting, Mr. Mustafa Chike-Obi, Chairman, Board of Directors, Fidelity Bank Plc said, "When we set the audacious target of attaining Tier 1 status a few years ago, we did not expect a smooth ride due to the endemic challenges in our operating environment. However, we were able to weather the storm because our business is built on a foundation of good corporate governance, effective risk management and shareholders' value enhancement.
In response to a shareholder's question on the deployment of capital raised during the recent private placement exercise, Mrs. Nneka Onyeali-Ikpe said, "The bank is growing in leaps and bounds and the capital would enhance our capacity to accommodate the business volumes coming our way. This is in addition to improving our technology especially in the light of the Cashless drive and creating more secured platforms that can handle the challenges posed by cybercrime.
Several resolutions were considered at the AGM including the declaration of a final dividend of 40kobo, re-election of non-executive directors -Mrs. Amaka Onwughalu and Chief Nelson Nweke, election of an Executive Director -Mrs Pamela Shodipo; amongst others.
Fidelity Bank is a full-fledged customer commercial bank operating in Nigeria with over 8million customers serviced across its 250 business offices and digital banking channels. The bank was recognized as the Best Payment Solution Provider Nigeria 2023 and Best SME Bank Nigeria 2022 by the Global Banking and Finance Awards. The bank has also won awards for the "Fastest Growing Bank" and "MSME & Entrepreneurship Financing Bank of the Year" at the 2021 BusinessDay Banks and Other Financial Institutions (BAFI) Awards.